Ethereum currently is bearish. The bearishness started in 2021 and has lasted till date and will continue for the rest of this year and the year 2023. Even on the day of the Merge, ETH plummeted furiously.
© Unsplash - Zotlan Tasi
The most important reason for the bearishness is crypto winter. During crypto winter, ETHUSD will be trending downwards no matter how positive the fundamentals surrounding it, are and no matter the number of developments and improvements on the Ethereum blockchain.
When a crypto summer begins, ETHUSD will experience overall bullish movements, even when negative fundamentals are coming out as regards it. The overall bullish movement will inevitably happen irrespective of occasional pullbacks in the market, leading to lower highs, and higher highs.
This is what is called seasonality in the world of crypto. There is a bullish season and a bearish season, and that is the biggest determinant of the overall movement of a major crypto like ETH.
Seasonality trumps everything!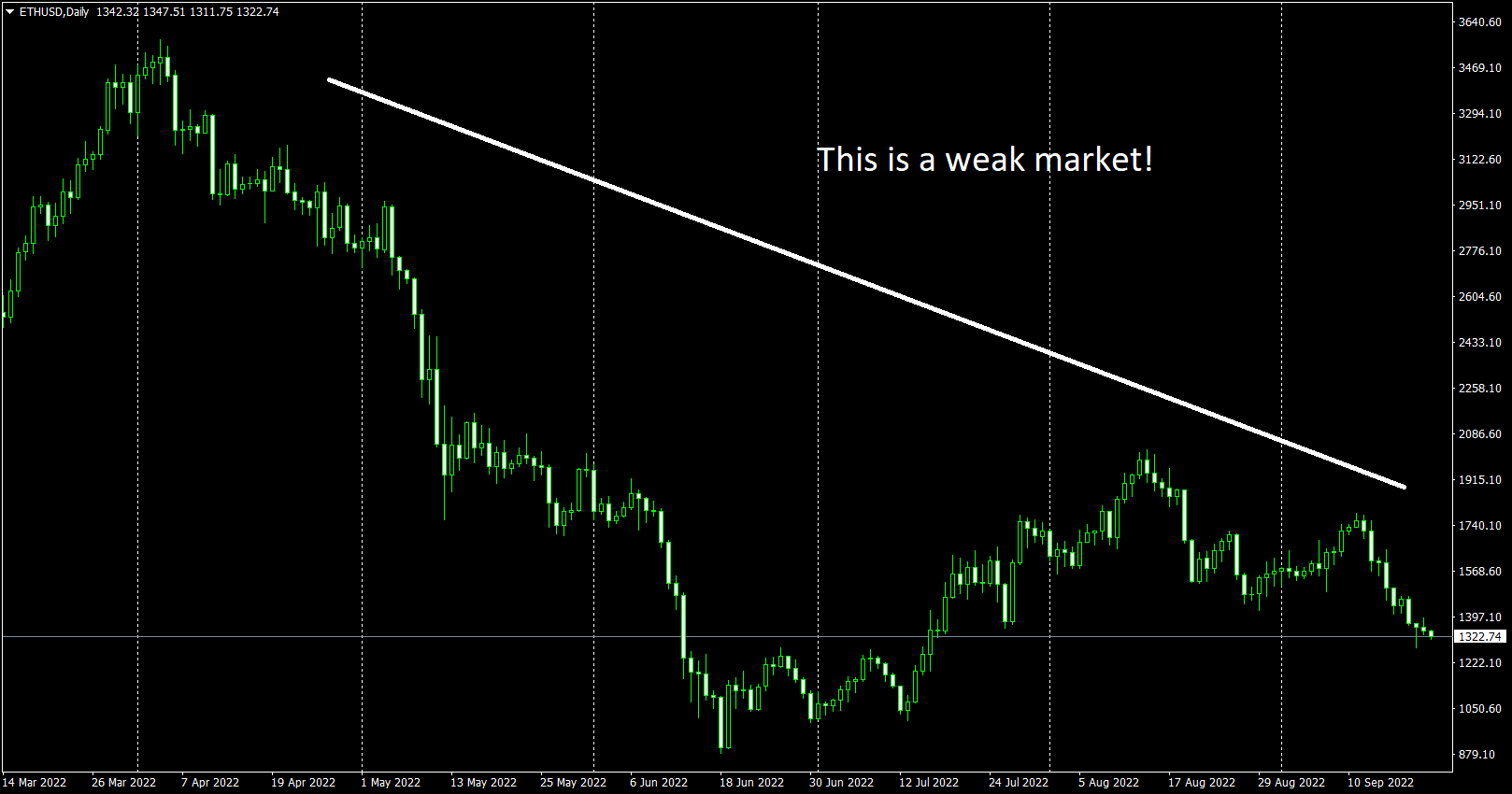 ETHUSD Long-term price territories
Distribution territories: $5,000.00 $15,000.00 and $20,000.00
Accumulation territories: $1000.00, $500.00 and $100.00.
ETHUSD Daily Chart:
The daily chart shows that the overall market tendency is bearish. This is a kind of market in which short-term sellers will make lots of money just by selling rallies in the market, using margin trading facilities.
Using margin trading techniques, going long in this market would invariably result in financial disaster, as the price is projected to reach the accumulation territory of $1,000.00 before the end of this year.
The most logical trading approach for margin traders is to sell every considerable bullish attempt on this crypto; since every bullish effort will invariably be transitory.
In the year 2023, the accumulation territory of $500.00 will be tested (or possibly breached to the downside, albeit briefly). That is when Ethereum will be prepping up for the next big rally, which would happen in 2024.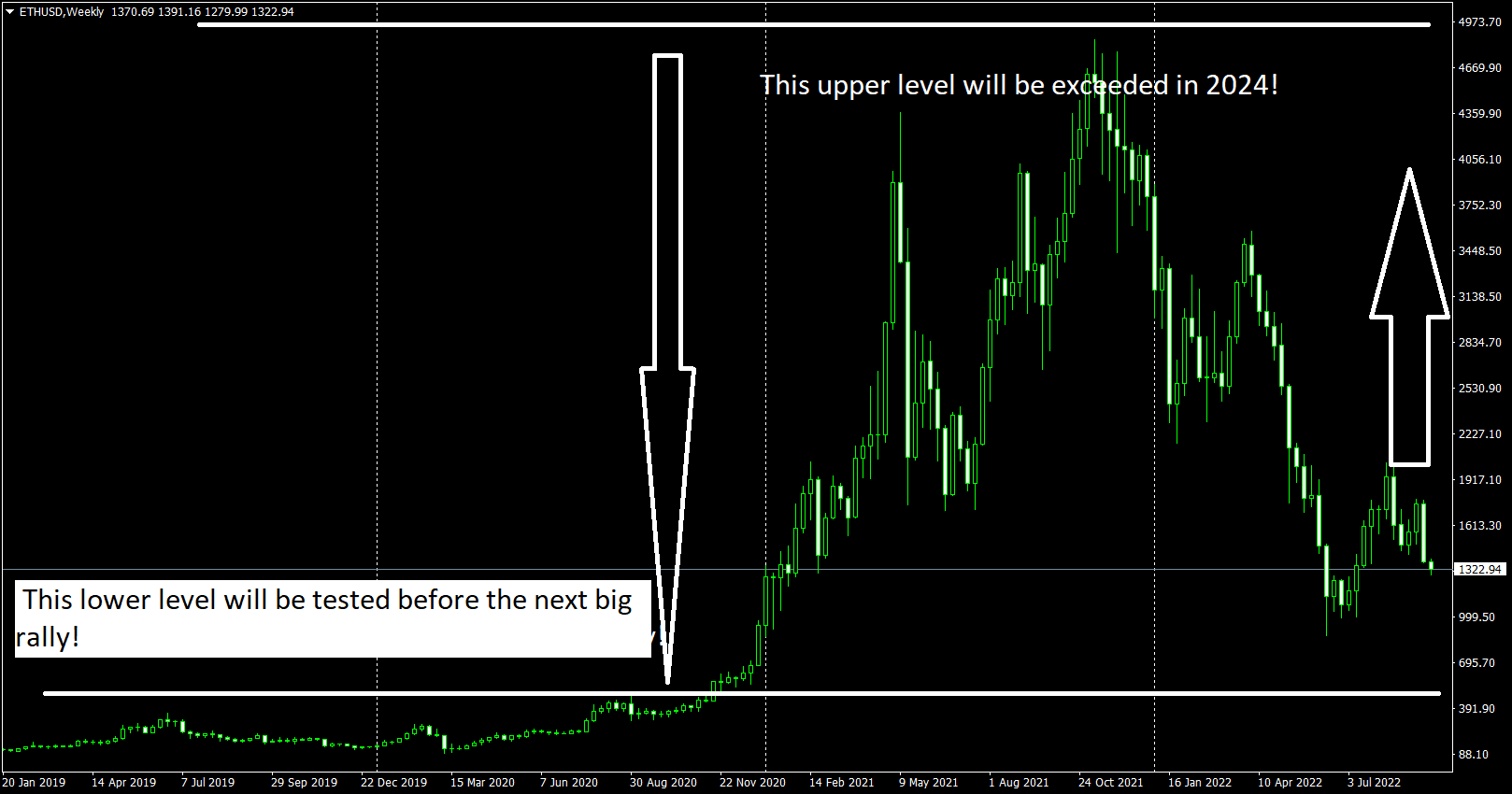 ETHUSD Weekly Chart:
In the weekly chart, it is depicted that the price would reach at least $500.00 territory before the next major rally.
In the year 2020. ETHUSD reached a low of $89.55 and then reached a high of $4,856.65 in November 2021.
The next major rally will begin any time after the next Bitcoin halving has been completed. According to one source, the next Bitcoin halving is scheduled to take place in 2024 at block 840,000. On Apr 28, 2024, 12:16:22 AM UTC the Bitcoin block reward is scheduled to drop from 6.25 Bitcoin per block to 3.125 Bitcoin per block.
Will Ethereum Hodlers Make Profits?
Yes, they will make profits.
In spite of the ongoing bearish bias on the market, Ethereum is always rated a "BUY." Investors who buy it during massive bearish markets will also make profits if they can wait for just a few years. On the other hand, those who buy ETH in the month of the next Bitcoin halving will make at least 1,000% (10X) returns within several months.
So, investors (apart from margin traders who buy and sell, using stop loss and take profits), can rest assured that ETHUSD will never go to zero (even if they invest when the market is very weak), making the value of their investment go down. They will eventually recover their loss and make massive returns on ETH.
It all boils down to timing: Some investors make money within years and some make money within months, just because of timing.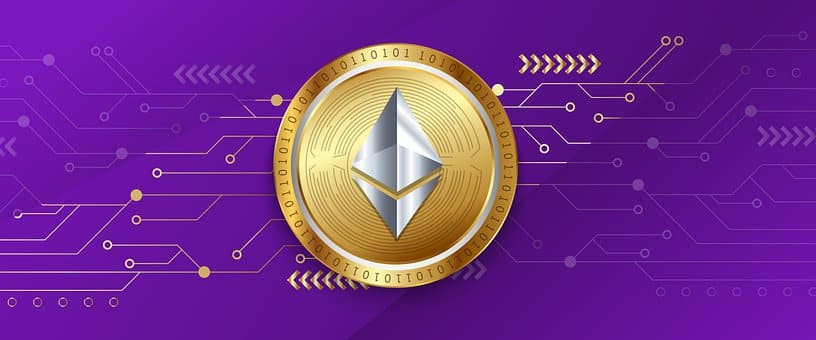 Ethereum to Reach $20,000.00 in the Year 2025
ETHUSD will breach its All-time High of 4,856.65 in 2024, reaching at least the distribution territory at $10,000.00 in that year.
In the year 2025, the distribution territory at $20,000.00 will be tested and surmounted, and then possibly surpassed, since that is the minimum target for the year 2025.
However, the price territory of $25,000.00 is another possibility before the end of the same year.
Ethereum (ETH) is always a buy, for the long-term bias is bullish, in spite of the current medium-term bearishness.
Source: https://learn2.trade/post-merge-long-term-price-forecast-for-ethereum-eth-2022-2025
CLICK HERE TO REGISTER FOR FREE ON ADVFN, the world's leading stocks and shares information website, provides the private investor with all the latest high-tech trading tools and includes live price data streaming, stock quotes and the option to access 'Level 2' data on all of the world's key exchanges (LSE, NYSE, NASDAQ, Euronext etc).